Last Christmas…The one that happened last week delivered a precious and early Christmas present from a new client of mine via WhatsApp. She has written the testimonial after just six weeks of working with me and using the Positive Intelligence techniques created by Shirzad Chamine.  
Read what she posted below.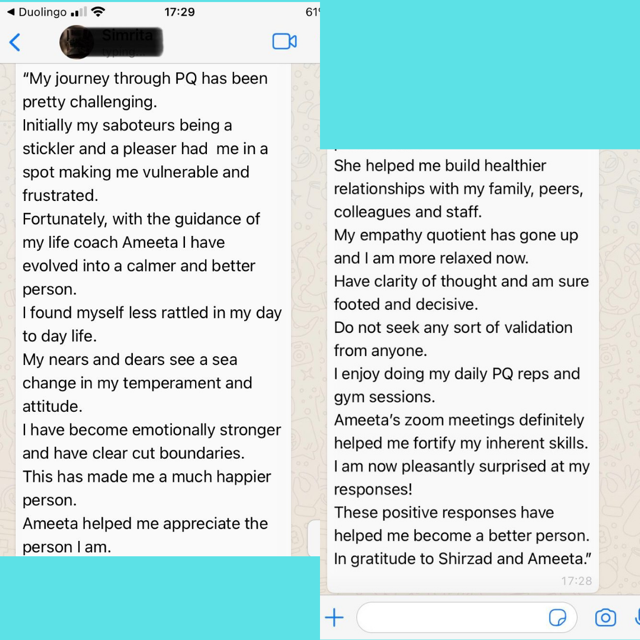 Thrilled with my present I wish to give a present to you this New Year: 
If there is something you want which is greater than achieving short term goals, but it is something you might not even be able to articulate easily because it feels abstract, and emotion based.  
Or
If you know exactly what you want but you are worried that while you might start off well on your own steam that sooner or later, you will 'get in your own way' and give up.  
Or
If you feel that you want to learn how positive intelligence techniques and my Clear-Thinking coaching can bring clarity to your dreams and goals.
Then I would like to offer thirty-minute coaching sessions for free as a gift.
If you are interested, then DM me on LinkedIn or email me at coach@clearthinkingcoach.com or go to my website clearthinkingcoach.com and book a 30-minute consultation. 
Besides exploring your goals, I will also provide a taster of some of the Positive Intelligence techniques that I use personally and coach with.

Hoping to bring joy of clarity in the New Year
Ameeta Davis
Certified Positive Intelligence Coach
#mentalfitness #unexpected #postivemindset #positiveintelligence #reinventyourlife #mindsetmatters #mindsetmentor #serendipity #mindsetmastery